New Opportunities for Growth
When you've reflected on your business performance from the previous year, done the math and looked for patterns in your finances, you're ready to focus on new opportunities for growth. These are the simplest steps to successful strategic planning and we're going to share a very easy tool that can help you with this area.
SWOT Analysis
A SWOT analysis sounds like something you learn in business school…. And it is! However, it's one of the simplest and earliest things you learn, so don't be scared off by the fancy name.
SWOT stands for 'Strengths' 'Weaknesses', 'Opportunities' and 'Threats'.
The SWOT analysis simply asks you to think about each of those things. You can do this to look at your business overall, or you can carry out a SWOT analysis for a specific project idea to assess the pros and cons of that potential venture.
The best way to do a SWOT analysis is in a grid form:
Below we have inserted some examples based on an independent coffee shop business.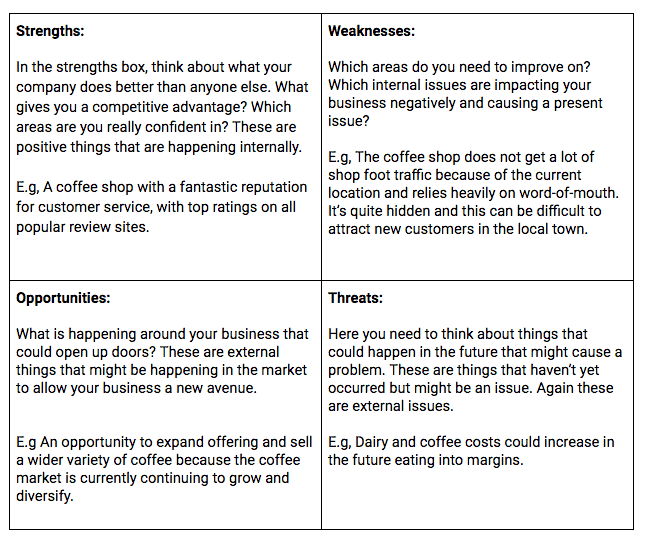 Strengths:
In the strengths box, think about what your company does better than anyone else. What gives you a competitive advantage? Which areas are you really confident in? These are positive things that are happening internally.
E.g, A coffee shop with a fantastic reputation for customer service, with top ratings on all popular review sites.
Weaknesses:
Which areas do you need to improve on? Which internal issues are impacting your business negatively and causing a present issue?
E.g, The coffee shop does not get a lot of shop foot traffic because of the current location and relies heavily on word-of-mouth. It's quite hidden and this can be difficult to attract new customers in the local town.
Opportunities:
What is happening around your business that could open up doors? These are external things that might be happening in the market to allow your business a new avenue.
E.g An opportunity to expand offering and sell a wider variety of coffee because the coffee market is currently continuing to grow and diversify.
Threats:
Here you need to think about things that could happen in the future that might cause a problem. These are things that haven't yet occurred but might be an issue. Again these are external issues.
E.g, Dairy and coffee costs could increase in the future eating into margins.
At surface value, the SWOT analysis doesn't help you prioritize these things, but we shouldn't stop here. It's crucial to prioritize the top 3-4 items within each quadrant. Rank your strengths and weaknesses in terms of importance. You will need to give this some thought, but by ranking them the SWOT gives you a clearer picture of what's going on.
Keep in mind that there are limitations of the SWOT analysis. It can't be used for in-depth issues and it doesn't help you prioritize things. It's great for identifying problems but it doesn't offer any solutions. The model doesn't assist you with thinking about ways to overcome weaknesses or protect your business against threats. It's purely just a starting place and although it seems simple, it forces you to focus on each area and then look at the bigger picture taking in to account each quarter.